From getting a reference from a school friend to writing about the AskMe Bazaar case study, time flew by! I used their websites in my school days.
2014 was the time of cyber cafes and one of my school friends mentioned it, "Bro, check out AskMe.com and search anything on it. You will get interesting stuff."
Google was still growing and I decided to give AskMe.com a try. I didn't like the user interface but it was good. After all, we just used Yahoo and Google and this was something new to explore.
By 2015, almost everyone got to know about AskMe Group. Thanks to all Ranbir Kapoor commercials and brand placements.
Do you remember this famous song featuring Ranbir Kapoor, Jacqueline Fernandez, and Arjun Rampal? 😉
Okay, I am making it easy for you by linking the music here.
Don't forget to check out the timestamp from 00:02 to 00:04 where they cleverly placed the 'AskMe.com' advertisement on the road!
Hmmm… I must say that AskMe hired some of the best marketers for their company. Or the whole company consisted of marketers?
[Hint: Read Point #2]
5 Things To Learn From AskMe Bazaar's Failure Case Study
AskMe Group abruptly shut down in 2016 and became an immortal case study that teaches many things. Its mistakes teach some important lessons about what businesses should not commit.
1. Focus on One Niche, Make It Perfect, Then Expand
GETIT Infoservices Private Ltd was in the business of Yellow Pages under the name of Getit Yellow Pages.
What are Yellow Pages? Yellow Pages used to be the directories and collection of contact details and businesses.
If you are from the 90s then you must have used telephone directories where names and contact numbers were organized according to the categories.
On the other hand, Network18 was working on an online directory named AskMe to list all the business contacts on their website.
Network18 sold AskMe to GETIT Infoservices in 2013.
GETIT Infoservices decided to take their offline business of yellow pages to that online directory. They wanted to build a platform for local search, classifieds, micro-communities, deals, etc.
As the company started expanding, AskMe Group started acquiring other startups rapidly. In a short span, they grew themselves in multiple verticals.
AskMe – Local Search Platform
AskMeBazaar – Marketplace for small and medium businesses
AskMeFurniture – Furniture marketplace formed by acquiring Mebelkart.com for $20 Million
AskMeGrocery – Online grocery delivery platform formed by acquiring BestAtLowest for $10 Million
AskMePay – Self-made payments platforms
AskMeFin – Self-made FinTech platform for businesses to get loans, and other business-oriented services.
Result? AskMe was fighting alone against JustDial, Flipkart, Amazon, BigBasket, and several category-based leaders.
Kindly note that none of the verticals was completely perfect. They were full of bugs and disappointed users.
AskMeGroup was heavily focused on expanding the business and acquiring new customers instead of focusing on improvement and customer retention.
There is nothing wrong with expanding the business but there has to be some plan. BBK Electronics did a pretty good job of expanding multiple verticles.
Read More | BBK Electronics Case Study
2. Every Company Should Have a CTO or a Technical Head
As I said, the UI and UX of the AskMe websites were pathetic. Although it is highly subjective, it was just bad.
Many online news reports point that AskMe just had a weak technology that could not sustain the load it was handling due to the exponential growth.
According to the employees of AskMeGroup, the database was being operated on Excel. They didn't even use proper CRM software to run a multi-million dollar company.
Since nothing was working on automation, manual work was getting painful. They could not track the products and refunds. As a result, payments and refunds took months to process.
The resolving speed was too less and this led to the frustration among the sellers.
According to its employees, AskMe was primarily a marketing and sales company. All the leaders and chief officers had a marketing background so they managed to grow the company in terms of portfolio, users, and geographical area.
They implemented all the marketing strategies to promote the AskMe group and grow it. And they even succeeded it. Ranbir Kapoor and Kangana Ranaut were brand ambassadors.
However, there was no important person in terms of technical background. Eventually, AskMe collapsed.
AskMe Bazaar case study shows why technical people and marketing people need to work together in collaboration. Without each other, they simply cannot expand.
3. Manage Your Expenses Without Burning Your Cash
No doubt, investment money was heavily flowing inside the company.
From Rs 26.7 Crores of revenue in March 2013 to Rs 47.8 crores in March 2014, AskMe almost doubled its revenue within a year.
Then what went wrong?
The profits (losses?)! Increasing revenues do not mean increased profits.
By 2016, orders dropped by 90% and there was not really a scope of comeback after the huge cashburns.
This is the case with most of the startups right now. I have explained the same in Zomato case study.
In case you missed it, check out: Zomato Case Study
4. Avoid Relying on a Single Investor
The biggest issue in the whole AskMe tragedy was the single major stakeholder. Astro Holdings had 98.3% of the stakes in AskMe!
Either companies should not dilute such high volumes of their shares or keep multiple investors. If an investor is holding more than 90% of the share alone then it is naturally going to influence the whole operations and ideology.
Allegedly, other stakeholders had some clashes with Astro Holdings regarding the company. As a result, Astro Holdings decided to exit the company putting it devastated.
The company's management board had little to no decision capabilities when a larger investor holds the majority of the share.
5. Care For Your Ecosystem & Existing Customers Before Acquiring New Ones
For any eCommerce business, there are 3 important parts – buyers, sellers, and logistics. AskMe ended up disappointing all of these communities due to heavy losses and poor technical management.
Buyers were already leaving because of late refunds, poor customer service, and long delays in the delivery. On top of that, other mainstream eCommerce websites like Amazon, Flipkart, and Snapdeal were growing rapidly and they provided better services.
Sellers were facing issues in technical terms and support systems.
Business Today reported a story. One of the sellers had 2 accounts in two different categories with the exact same details. But he was not paid for his 2nd seller account citing technical issues.
He even paid a 15% commission than the agreed 7% commission. As a result, he left. There were countless similar cases. Merchants didn't even get paid on time.
Similarly, the logistics company was operating on credit with no timely payments. According to YourStory report, a prominent logistics company filed legal notice regarding the non-payment issues for four to five months.
Even employees stopped receiving their salaries and payments. AskMe emailed its employees a list of contact details of Astro Management officials to ask for the payments! Because Astro was supposed to pay $5 million.
AskMe employees even protested at several places.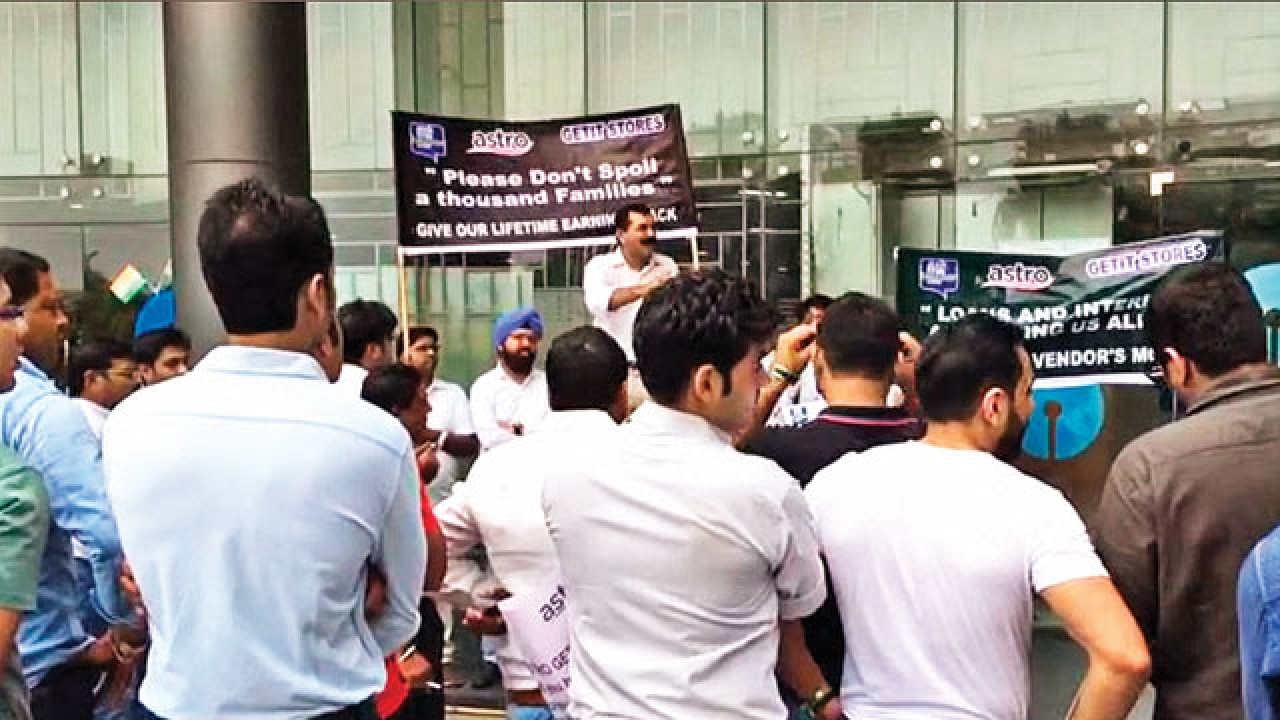 In June 2016, top board directors like Khader Bin Merican, Hishan Zainal Mokhtar, and Ashok Rajgopal resigned.
Finally, in August 2016, Economics Times reported that AskMe Group has abruptly stopped operating and laid off 4000 employees.
---
5 Lessons From AskMe Bazaar Case Study For Startup Owners & Wannabe Tech Entrepreneurs
Focus on one niche, make it perfect, then expand
Every company should have a CTO or a technical head
Manage your expenses without burning your cash
Avoid relying on a single investor
Care for your ecosystem & existing customers before acquiring new ones
The biggest lessons to learn from the AskMe Bazaar case study – avoid relying on a single investor and don't dilute your business completely.
Overall, the AskMe group was a disaster in the Indian eCommerce industry. It blew the bubble of funding cycles without strong fundamentals.
Startup owners and aspiring entrepreneurs have too many things to learn from this AskMe Bazaar case study.
Share this article with your budding entrepreneur friends and business circles because sharing informative articles make you look cool! 😉